Special Hours for 2018:
Hermann Furniture is open every day to serve you except for these holidays:
New Year's Day, Easter Sunday, Mother's Day, Memorial Day, Father's Day, Independence Day, Labor Day, Thanksgiving, and Christmas.
July 20 & 21, 2018
Christmas in July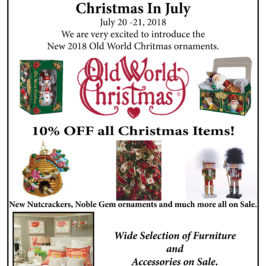 September 7 & 8, 2018
Fall Open House
At Hermann Furniture, we do fall and Halloween up big! Come join the fun at this annual fall decorating and design party! Enjoy appetizers and a glass of wine as you get ideas and inspiration for celebrating this beautiful season in your home's decor.
September 27, 2018
Luncheon & Design Seminar
Speaker Jennifer Hermann
"Style for the Season"
Fall and winter offer a wealth of opportunity to explore style. While spring is the time so many of us clean and organize our home, fall and winter is often the time we choose to refresh our home in time to host family and friends. Join us as I show you how to get ready for the season ahead.
11:30 A.M. ~ Thursday, September 27, 2018
Brenham Country Club, 4107 Highway 105, Brenham, TX 77833
Contact Minda for more information 979-836-1733
November 3 & 4, 2018
Christmas at The Mansion
This special fundraising event, benefiting the Heritage Society of Washington County, is one of our favorite events. The Giddings Stone Mansion will be decorated by Jennifer Hermann and the Hermann team. Each room will be decorated differently, with the historic home as the beautiful backdrop. The Mansion truly comes to life decked in today's holiday decor. The store will be layered in lavish displays to inspire you to brighten your home during this season of joy.
November 23 & 24, 2018
Holiday Open House
Come relish in the beauty of the holiday season at this very special party. Hermann Furniture will be decorated from top to bottom with beautiful holiday decor. You will find everything you need to decorate your home for the holidays and gifts for everyone on your list!